All Things Considered ~ Debbie Macomber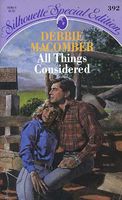 Judd Matthiessen was no good. His father had always said so, and his desertion of Lanni and their daughter seemed to prove it. So why did it feel so right to Lanni when Judd walked back into her life? And why did she agree to accompany him to the Matthiessen ranch--chastely--when his mere presence made her weak with desire?

Discovering a manlier, more mature Judd was ecstasy. But his father seemed determined to drive Judd away, Unless Lanni could stop him, this time it might be forever.
what readers are saying
What do you think? Write your own comment on this book!
Write a Comment
sub-genres
Contemporary Romance
---