The Eternal City by David Drake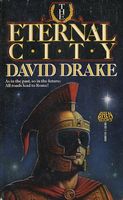 ROME
When her legions crashed across half the world, they created an empfretllated a thousaiid years--and legends, that will last forever.

Join

ROBERT E. HOWARD
DAVID DRAKE
C. J. CHERRYH
POUL ANDERSON
GORDON R. DICKSON
and more, in tales of...
• Legionary swords battling sorcery--and lasers...
• Roman hells--and Romans in Hell...
• Immortality for Man--and for Evil which had once worn the aspect of Man...
what readers are saying
What do you think? Write your own comment on this book!
Write a Comment
book info
genres
Speculative Fiction
---