Dakota! by Dana Fuller Ross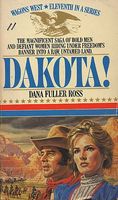 WAGONS WEST
Unflagging courage took them through the rough valleys of the Badlands to the vast prairies of a fertile, new territory. The promise of endless fields of golden wheat, great herds of prime beef cattle, fabulous empires built from railroads and mines lured the ambitious and the brave to this uncharted country. But war cries soon echoed across the plains as mighty red nations united in a act of blood to fight the newcomers for their sacred hunting rounds.

DAKOTA! Crack calvary troops, veterans of the long Civil War, keep order on the Northwest plains as rugged settlers push deeper into unexplored lands. There the cunning Sioux, fierce Blackfoot, and defiant Cheyenne beat the solemn drums of battle, while Toby Holt, son of famous wagonmaster Whip Holt, sets out lone to convince the red man to smoke the pipe of peace. But the treachery of a powerful chief and the relentless hatred of Ma Hastings, leader of a murderous outlaw gang, drives this bravest f pioneers toward a deadly ambush. Back home a more personal war is waged -- beautiful wife Clarissa frantically awaits Toby's return as scandal taints passionate Beth Martin, wife of Toby's dearest friend.
what readers are saying
What do you think? Write your own comment on this book!
Write a Comment
book info
time period
Nineteenth Century
American West
---