Colorado! by Dana Fuller Ross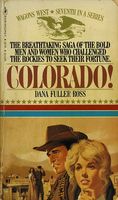 WAGONS WEST

DENVER! Braving the Rockies and the untamed wilderness, they came to the wild frontier town and watched it explode into a city of fabulous instant wealth. Some were desperate men and women fleeing the mounting turbulence in the East, others were adventurers forsaking the played-out dreams of the California gold fields. They were lured by the most powerful promise of all--bonanza!

COLORADO! As the guns of Civil War rumble, a fledgling nation stands on the brink of disaster. General Lee Blake stakes his life on the biggest challenge of his career--Colorado, a raw, awesome land with vast, new-found wealth must remain part of the Union. Aiding him in his mission is Luke Brandon, a mineral expert masquerading as a banker, whose young wife yearns for riches of her own. And Cathy Blake, who is threatened by a voluptuous rival for her husband's heart, is forced to summon all the fire in her blood to fight for her man.
cover variations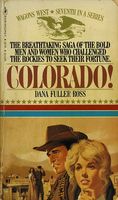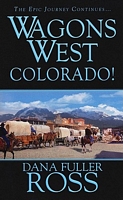 what readers are saying
What do you think? Write your own comment on this book!
Write a Comment
book info
time period
Nineteenth Century
American West
---