Velvet Chains by Constance O'Banyon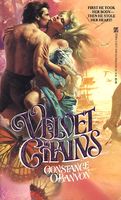 ECSTASY'S TIES
The notorious pirate, "The Raven," despised anything British -- and that included ravishing Lady Season Chatsworth. The black-garbed captain had kidnapped the English beauty as ransom for an American patriot. But the longer the Redcoats stalled negotiations, the more time the Raven spent with his prisoner... and the closer he came to tumbling her to his bed! Soon all thoughts of freedom for the Colonies fled his mind and the only cause he now embraced was possessing his sumptuous captive!

LOVE'S BONDS
Emerald-eyed Season Chatsworth had defied her father's plans for her future; she certainly wasn't about to obey a stranger's commands! Escape was all the spirited young woman could think of -- until she gazed into her handsome abductor's eyes and lost her will to resist. His searing touch and devouring kiss kept her by his side with more force than manacles of steel. Then the moment came when Season no longer rebelled against the cruel fate that linked her to the Raven; now she was forever bound to him by passion's Velvet Chains.
what readers are saying
What do you think? Write your own comment on this book!
Write a Comment
book info
time period
Eighteenth Century
American Revolution
sub-genres
Historical Romance
---