Project Pope ~ Clifford D. Simak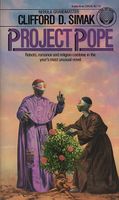 VATICAN-17

On the Rim planet fittingly called The End of Everything, a bizarre society of robots and humans toiled for a thousand years to perfect a religion that would create a new and all-embracing faith--no novelty in a galaxy crowded with religions. But one project was hidden from the hordes of pilgrims welcomed at Vatican-17 Trained human sensitives were sending their minds ranging through all of time and space, gathering all the information that could exist. With that information, a computer of infinite knowledge, wisdom and infallibility was being constructed in secret--the ultimate Pope.

But now, the project is being threatened by a young woman journalist on the trail of a sensational story... and, even more incredibly, by one of the searcher sensitives who, while drifting in unsuspected dimensions, claims to have encountered Heaven!
what readers are saying
What do you think? Write your own comment on this book!
Write a Comment
genres
Speculative Fiction
sub-genres
Science Fiction
---