Chanur's Legacy by C.J. Cherryh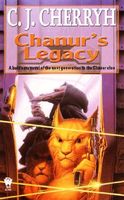 Hilfy Chanur, once a member of her aunt's crew on Pride of Chanur, is now captain of her own vessel, Chanur's Legacy. It should have been the ideal existence for Hilfy, her fondest dream fulfilled, but instead the youong captain's increasingly hard-pressed to take care of her ship's business.

So when a Meetpoint's stationmaster offers her a million credits to transport a small, mysterious, "religious" object it seems like a golden opportunity -- perhaps even too good an opportunity.... Yet despite her misgivings, Hilfy feels it's a commission she can't turn down. But soon she and the Legacy are caught in an ever-tightening web of intrigue. And only time will tell whether the young captain can determine who is her ally and who is her enemy in this deadly game of interstellar politics....
cover variations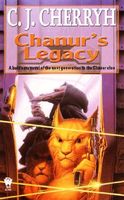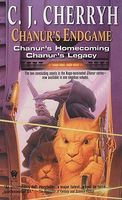 what readers are saying
What do you think? Write your own comment on this book!
Write a Comment
book info
published
Aug-1992 (hardcover)
Sep-1993 (paperback)
genres
Speculative Fiction
sub-genres
Science Fiction Space Opera
people / creatures
Aliens
---