Love and Country by Christina Adam
When rodeo practice begins, young Kenny Swanson is hugely disappointed to learn that he won't be able to compete. He and his mother, Lenna, have just moved to a new town and can't afford the risk of injury that is a fact of riding broncs. But a boy's dreams die hard, and Kenny is soon hanging on a fence rail, watching the local rodeo star.

Kenny's longing drives LOVE AND COUNTRY's singular story of four seasons in a high valley in Idaho -- a complex and poignant year of discovery for him and others in this mesmerizing first novel. As Lenna struggles to find a place for herself -- alone with her son, surrounded by vast and sometimes frightening open spaces -- Kenny witnesses death on a hunting trip with his estranged father, risks the consequences of breaking colts, helps a mare to foal, and learns the meaning of forgiveness.


cover variations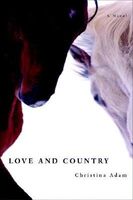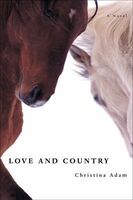 what readers are saying
What do you think? Write your own comment on this book!
Write a Comment
book info
published
Oct-2003 (hardcover)
Apr-2005 (paperback)
---