Hometown Sheriff ~ Cheryl St. John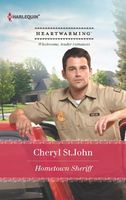 An Unexpected Homecoming

Ryanne Whitaker isn't proud of having to return to her hometown of Elmwood, Iowa. But with a failed marriage and a financial mess waiting for her back in the city, she needs a place to regroup. She also wouldn't mind a friend…like her childhood confidant, Nick Sinclair.

Nick's now the town sheriff and a single father. He wants nothing more than to let Ryanne lean on him, to be able to care for her and love her as he's always wanted to do. And yet he knows that she won't need him forever. Can he risk giving his heart to her if she's only going to walk away?
what readers are saying
What do you think? Write your own comment on this book!
Write a Comment
sub-genres
Contemporary Romance
---