The Proud Breed by Celeste De Blasis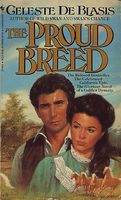 AN UNTAMED WOMAN... A FEARLESS MAN... A MAGNIFICENT LOVE. THE MONUNENTAL ADVENTURE THAT SWEEPS ACROSS A MIGHTY CENTURY OF AMERICAN HISTORY.

The first time Gavin Ramsay sees Tessa MacLeod y Amarista -- a violet-eyed beauty swimming naked in a hidden pool--she reacts by attaching him with a knife. Realizing her mistake, she nurses him back to health and into a deep, enduring and courageous love. Together, despite tremendous obstacles Gavin and Tessa pursue their golden dream--they tame the land, raise a family, and reap great wealth and power. A vast empire is theirs, yet greater still is the magnificent family dynasty they have begun--a dynasty that will flourish on their firm foundation of love.

Passionate, colorful and peopled with unforgettable characters, The Proud Breed vividly re-creates California's exciting past, from the wild country to the pirated coast, from gambling dens to lavish ballrooms, from the rush for gold to the triumph of statehood.
what readers are saying
What do you think? Write your own comment on this book!
Write a Comment
book info
time period
Nineteenth Century
American West
sub-genres
Historical Romance
---