Toblethorpe Manor by Carola Dunn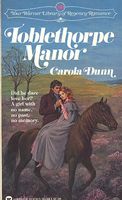 They called her Miss Fell for the spot where Richard Carstairs had found her--Daws Fell. He had carried her home in his arms; and from the moment she opened her sea-green eyes in bewilderment and pain, she had captured his heart.

But who was she?

Despite her gentle manner, she might be only a governess--or even a butcher's daughter who had an education. Dare a man like Carstairs--who considered his only - attribute to be his position in society--risk offering for someone who did not know her own name, let alone her station in life?
what readers are saying
What do you think? Write your own comment on this book!
Write a Comment
book info
time period
Nineteenth Century
Regency
sub-genres
Traditional Regency
---