Silver Fang & Glass Walk by Carl Bowen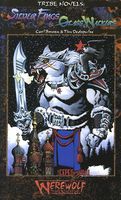 For weeks, the Garou, bestial werewolves who fight to save the natural world, have been fighting a losing battle against the minions of the vile Wyrm-spawn Jo'dlath'mattric. Now, at last, it is time to take fight to the beast. In Tribe Novel: Silver Fangs, the warrior King Albrecht travels to Europe to rally the Garou forces but finds a cold welcome from his brethren. In Tribe Novel: Glass Walkers, the young spirit-seer Julia Spencer tries to find the weakness in the enemy's defenses but may well be leading her packmates into an ambush.

what readers are saying
What do you think? Write your own comment on this book!
Write a Comment
book info
genres
Speculative Fiction
people / creatures
Werewolves / Shapeshifters
---