Mission Code: Volcano by Bryan Swift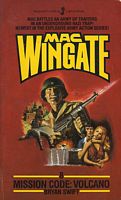 MAC WINGATE--ALL MAN, ALL AMERICAN, ALWAYS IN THE THICK OF THE ACTION!

By October 1943, the Nazis had lost the Battle of Kursk on the Russian front and were gearing up for the long fight ahead. The Free French Resistance was crumbling, torn from within by warring factions.

Then the Allies get word of a bomb-proof underground factory just south of Vichy, at work for the Nazi cause. It's up to MAC WINGATE, special agent and demolitions expert, to summon a ragtag army of resisters hiding in the surrounding volcanic hills, to sabotage the plant. The game plan seems clear... until MAC is caught in a nest of traitors, bait for a Nazi trap!

what readers are saying
What do you think? Write your own comment on this book!
Write a Comment
book info
time period
WWII
Twentieth Century
sub-genres
Action Adventure
---