Cultural Breaks by Brian W. Aldiss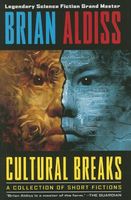 This special collection of short stories from Grand Master Brian Aldiss is being issued to coincide with his 80th birthday. Set to include such notable works as "Aboard the Beatitude," "A Man with His Mule," and "Head," the anthology will also feature commentaries from a group of his peers sharing their perspectives on this amazingly talented individual. Often compared to J. G. Ballard, Thomas Disch, and Michael Moorcock, Brian Aldiss has been referred to as " arguably] the most significant English writer of science fiction since H. G. Wells" by the "St. James Guide to Science Fiction." A prolific author, he continues to enthrall his vast fan base and attract first-time readers. Known for pushing the envelope and refusing to be confined to a particular style of writing or to specific subjects, his works encompass space exploration, time travel, historical fantasy, and even parodies of Kafka.

what readers are saying
What do you think? Write your own comment on this book!
Write a Comment
book info
published
Aug-2005 (hardcover)
genres
Speculative Fiction
sub-genres
Science Fiction
---