Evil Under the Ice by Brad Quentin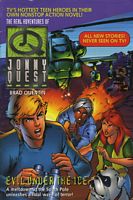 COUNTDOWN TO ECO-DISASTER!
The Quest Team is setting up camp in Antarctica, where a mysterious runaway glacier threatens to destroy the last truly wild area on the planet.

Is it a natural disaster, or a new kind of worldwide terrorism? Jonny, Jessie, and Hadji must pilot their tiny Porpoise sub under the awesome Ross Ice Shelf and find out -- fast. For when the polar ice hits the sea, the tidal wave will flood the world's cities!

Don't miss this new nonstop action adventure, as Jonny Quest and his friends race to head off an environmental nightmare!

what readers are saying
What do you think? Write your own comment on this book!
Write a Comment
book info
age level
Kids (12 & Under) Kids: Middle Grade (8-12)
sub-genres
Action Adventure
---