At Long Last Love by Bettye Griffin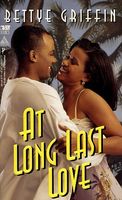 RIVALS IN BUSINESS
As the savvy owner of the thriving take-out restaurant chain Soul Food to Go, Kendall Lucas' life is exciting and full of challenges. She has only one regret, that building a successful business has left little time for love. Then Spencer Barnes introduces himself as her new neighbor. Gorgeous and brilliant, Spencer's the most compelling man Kendall's ever met, and before long, their desire burns bright--until she makes a horrible discovery. Spencer is the owner of the new restaurant that's threatening to put her out of business!

PARTNERS IN LOVE
Spencer Barnes wishes he hadn't mixed business with pleasure: No sooner does he win over the beautiful restaurateur than he discovers she's been keeping a controversial new advertising campaign a secret from him. Devastated by her own act of deception, Kendall loses hope in her ability to share an intimate future with Spencer. But Kendall underestimates Spencer's devotion. With love, patience and passion, he vows to transform this wonderfully challenging woman of his dreams from his greatest competitor to his truest partner--for life!
what readers are saying
What do you think? Write your own comment on this book!
Write a Comment
book info
sub-genres
Contemporary Romance
---