At Witt's End by Beth Solheim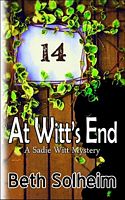 Things are really bustling at the Witt's End resort in Northern Minnesota. Clients are vying for one of the few remaining rentals, except Cabin 14--thing is, no one gets out of Cabin 14 alive.

Sadie isn't your typical sixty-four year old senior citizen. She has things she wants to do and shouldn't be expected to solve a murder while trying to prevent an unscrupulous sheriff's deputy from shutting down the lakeside resort she owns with her straight arrow sister. But that's exactly what Sadie Witt must do.

When five guests with hidden agendas arrive at Cabin 14, they're stunned to learn that the flamboyant Sadie is their conduit to the hereafter. Clad in the latest fashion trends--fads typically reserved for those without sagging body parts--and sporting hairdos that make bystanders want to look away but can't, Sadie realizes one of the guests has been murdered and must work against the clock to untangle the web and prevent further mayhem.

what readers are saying
What do you think? Write your own comment on this book!
Write a Comment
book info
people / creatures
Women Sleuths
---