The Enchanted Moment by Barbara Cartland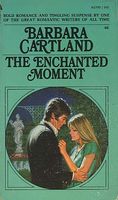 FAMILY SECRETS

When her Aunt Amy died, lovely Sally St. Vincent had no choice but to go to London and seek the sanctuary of the mother who had deserted her many years before--the famous actress Lynn Lystell.

Lynn Lystell was as beautiful as Sally remembered her, and as kind. She clothed Sally in a stunning wardrobe, and insisted that she forget about seeking a job. But she made one strange request--that Sally keep their true relationship a secret.

It was only after Sally's handsome suitor, Anthony Thorne, deserted her at the altar, and his cynical brother, Sir Guy Thorne, took her under his wing, that Sally began to suspect all was not what it appeared to be. But by then it was too late--her heart was already
broken...
what readers are saying
What do you think? Write your own comment on this book!
Write a Comment
recent publishing history
Mass Market Paperback
Pyramid
ISBN:

0515027952
ISBN13:

9780515027952