Love to the Rescue by Barbara Cartland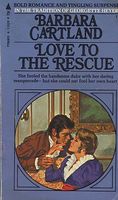 A BEAUTIFUL IMPOSTOR

Cleona had agreed to the daring masquerade only for the sake of her best friend, Leonie. Cleona, impersonating her friend, was to visit the Dowager Duchess of Lynke--the grandmother who had not seen Leonie since childhood.

So, overnight, beautiful Cleona Howard became the wealthy granddaughter of a duchess, and was introduced into glittering London society. But how far could the masquerade go?

Before Cleona knew it, she became enchanted with the reckless young Duke of Lynke--a handsome rascal who spent his nights at the gambling tables. This was but the beginning of a web of love and mystery that would soon ensnare her...
what readers are saying
What do you think? Write your own comment on this book!
Write a Comment
book info
time period
Nineteenth Century
Regency
sub-genres
Traditional Regency
---