A Portrait of Love by Barbara Cartland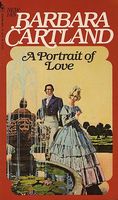 The Earl of Heversham seemed to fill the whole room, the sky, and the world itself, and she knew as she saw his eyes that he looked younger and happier then and completely different from the man she had left behind.

Neither of them could speak, they just stood looking at each other. Then the Earl opened his arms and with a little cry that seemed to echo round the room Fedora ran towards him.

He held her close against him and she could feel his heart beating frantically against her breast.

Then he turned her face up to his and down at her before his lips were on hers.

He kissed her until the whole room swung round them, and they no longer had their feet on the ground but were flying towards the Heaven they had sought before and lost.
what readers are saying
What do you think? Write your own comment on this book!
Write a Comment
recent publishing history
Mass Market Paperback
Bantam
ISBN:

0553149229
ISBN13:

9780553149227