A Night of Gaiety by Barbara Cartland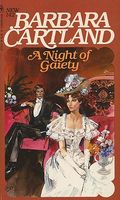 THE HEAVENS OPENED

The Marquis of Vange looked down at Davita's face for a long moment, as if he wished to engrave it on his memory forever, then as his arms tightened his lips sought hers.

It was as if the Heavens opened, and she knew an inexpressible ecstasy that was beyond all thought or imagination.

He kissed her gently at first, as if she was something infinitely precious, then the softness of her mouth aroused him in a way he had never known before.
what readers are saying
What do you think? Write your own comment on this book!
Write a Comment
recent publishing history
Mass Market Paperback
Bantam
ISBN:

0553147919
ISBN13:

9780553147919