A Marriage Made in Heaven by Barbara Cartland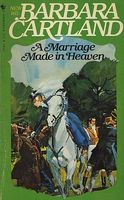 Without thinking, simply because her terror about what had occurred was still with her, Lady Samala Wynn ran towards the Duke of Buckhurst and flung herself against him.

"You... are safe!"

Her hands had reached up towards the Duke's neck, and as he put his arms around her she held onto him frantically.

He looked down at her, her eyes misty with tears, her lips trembling, and he thought no one could be lovelier.

Then his lips came down on hers.

For a moment Samala could not believe it was happening.

Then she felt she must have died and he had carried her into a Heaven where there were only flowers and music and love....
what readers are saying
What do you think? Write your own comment on this book!
Write a Comment
recent publishing history
Mass Market Paperback
Bantam
ISBN:

0553229184
ISBN13:

9780553229189