Lady Linford's Return by Anne Ashley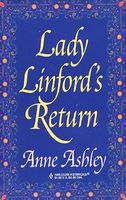 RUNAWAY BRIDE!

When the dashing Viscount Dominic Linford married the very beautiful yet very determined Rachel for her dowry, he thought their marriage would be beneficial for both of them--he would be set financially, and Rachel...well, she would at least have the benefit of not being an old maid. But Rachel wanted more from marriage than a, title, and, believing the viscount unwilling to see her views, she fled, a demonstration of independence that brought Dominic to his senses. But was it too late to bring Rachel back into his arms?
what readers are saying
What do you think? Write your own comment on this book!
Write a Comment
recent publishing history
Mass Market Paperback
Mills & Boon (UK)
ISBN:

0263801977
ISBN13:

9780263801972
---
Mass Market Paperback
Harlequin
ISBN:

0373303203
ISBN13:

9780373303205
---
Paperback
Mills & Boon (UK)
ISBN:

0263840816
ISBN13:

9780263840810