Bitter Tide by Ann Stamos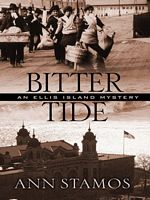 1901. Immigrants lap at the American shores as relentlessly as the waves of the Atlantic Ocean. Ellis Island Superintendent Joseph Hannegan stands alone in trying to protect the interest of the immigrants -- and of this country -- against the rampant corruption overtaking the immigration station. As yet another scandal ufolds, Hannegan believes he may finally have enough evidence to rout crooked Assistant Commissioner Edward McNabb. But when young Irish immigrant Maggie Flynn steps off the ferry and shoots her fiance on Ellis Island soil, Hannegan's mission is derailed. Naive and frightened, Maggie refuses to explain herself, and the victim's body has inexplicably disappeared. What begins as an annoying distraction soon grows into a web of lies shocking even to the toughest Tammany politician and unbearably painful to Joseph Hannegan. With the help of women's matron Rachel Bonner, he must solve the murder or sacrifice all he holds dear.


what readers are saying
What do you think? Write your own comment on this book!
Write a Comment
book info
published
Apr-2009 (hardcover)
---