Opening Act by Ann Patrick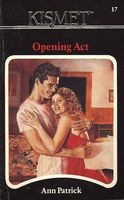 SUMMER HEAT

As playwright Alex Summerfield drove north, he couldn't wait to get away from New York City. From his devastating divorce to a difficult bout of writer's block, Alex's problems had overwhelmed him recently. A working vacation in the quiet town of Juliette, New York, was just the thing to get him back on track. Then he was stopped for speeding inside the town limits, and his tension mounted. It didn't help that the town sheriff was a tiny, blue-eyed brunette with a figure that made his pulse race.

Sheriff Ronnie Valetti had heard of Alex Summer-field. She'd even seen a few of his shows. But she had no idea that the playwright was tall, dark-haired, and gorgeous. His gray eyes glittered like smoky diamonds as he argued about the speeding ticket. From that moment on, Ronnie knew he would be trouble.

As the summer days began to heat up, so did the attraction between Ronnie and Alex. Even as Ronnie encouraged his progress on the new play, she tried to ignore the desire that swelled whenever he was near. All too soon, the season would end, and Alex would return to the city, leaving her with a broken heart and the memory of a scorching summer passion.

If only the summer could last forever.
what readers are saying
What do you think? Write your own comment on this book!
Write a Comment
book info
sub-genres
Contemporary Romance
---