Kailey by Amy Goldman Koss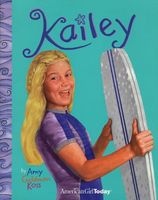 Meet Kailey
Whether she's spying on tide-pool creatures or splash-crashing through waves on her boogie board, there's no place ten-year-old Kailey loves more than the ocean. She and her best friend, Tess, feel totally lucky when they find out a resort-mall-movie multiplex is "Coming Soon!" to their beach. TWELVE movie theaters. Cool shops. Maybe even bathrooms! Then Kailey learns the whole truth: developers plan to haul away the rocky tide pools to make a smooth, sandy beach for tourists. Messing with a whole tide-pool universe is just plain NOT OK. Kailey's got a great idea, but she's never tried anything like it before. If she can believe in herself and make it work, there might be hope for the tide pools yet.

what readers are saying
What do you think? Write your own comment on this book!
Write a Comment
book info
age level
Kids (12 & Under) Kids: Middle Grade (8-12)
---