A Man of Secrets ~ Amanda Stevens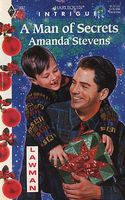 All she wanted for Christmas....was the truth.

Natalie Silver couldn't understand why FBI agent Spencer Bishop was helping her out. But when her ex-husband - Spencer's brother - was found dead in Natalie's Christmas shop, she found herself needing the secretive and seductive Spencer as much as she had once loved him. And therein lay danger.

The more time Spencer spent with her, and the more clues he unraveled, the closer he came to her own secret. His brother had wanted to take her six-year-old son from her. Would Spencer feel the same way...if he learned her son was also his?

LAWMAN -- There's nothing sexier than the strong arms of the law!
anthologies and collections
what readers are saying
What do you think? Write your own comment on this book!
Write a Comment