The Players Come Again by Amanda Cross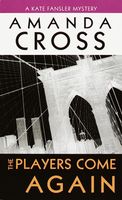 A scarcely believable rumor climbing the literary grapevine hints that Emmanuel Foxx's great modernist novel, Ariadne, whose theme is a woman's emotional life, may actually have been written by his wife, Gabrielle. When a New York publishing house invites Kate Fansler to write a biography of the obscure and enigmatic Gabrielle, she instantly accepts.

Her research quickly zeroes in on three charming older women--all connected with the Foxx family since childhood--who know more than they are willing to tell Kate about the true relationship between Emmanuel and Gabrielle Foxx. Much more.

Behind their fierce secrecy, Kate discerns a fantastic pattern of events, a shocking secret that fifty years have done nothing to defuse, and a strange truth that she can never reveal.
what readers are saying
What do you think? Write your own comment on this book!
Write a Comment
book info
published
Oct-1990 (hardcover)
Nov-1991 (paperback)
sub-genres
Amateur Sleuth
---