Question of Max by Amanda Cross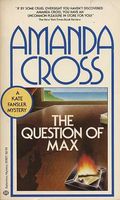 When Max--well-bred, utterly snobbish Max asks Kate Fansler to accompany him (to drive him, yet) to the rocky coast of Maine, where the famous author Cecily Hutchins lived until her recent death, Kc: reluctantly agrees. Max is literary executor and wants
to have a look at Cecily's papers.

But first, a little walk to the ocean. Kate, more courageous than her companion, climbs down the rocks and, to her horror, discovers the drowned body of one of her students.

The question of how it ended up in this barren place leads amateur sleuth Kate to several intriguing questions about Cecily Hutchins and her Bloomsbury-like literary circle and finally to the question of Max. He is too elegant for words. But is he too elegant for murder?

The answer makes for a delicious mystery starring a most charming, well-educated, and determined professor/detective.
cover variations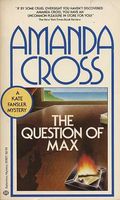 what readers are saying
What do you think? Write your own comment on this book!
Write a Comment
book info
sub-genres
Amateur Sleuth
---