Hatching Pete by Alice Alfonsi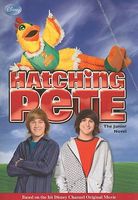 Catch this captivating junior novel retelling of Hatching Pete, a new Disney Channel Original Movie airing in January 2009!

School spirit at Brewster High is at an all-time low. The Ragin' Roosters basketball team hasn't won a game all season. Plus, the school mascot is totally lame! Things aren't so great for Pete Ivey, an ordinary sophomore, either. His teachers forget he's in their class, and the girl of his dreams thinks of him as a brother. But when Pete secretly puts on the school mascot chicken suit, he's the basketball-dunking, pyramid-jumping spectacle they've all been waiting for. Suddenly the whole school is pumped up, but no one knows it's all because of Pete. Can he admit to everyone that he's the man behind the beak?

what readers are saying
What do you think? Write your own comment on this book!
Write a Comment
recent publishing history