The Killing of the Saints by Alex Abella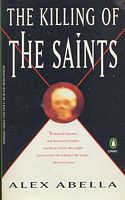 WITH A PAST HE'D LIKE TO FORGET AND A DANGEROUS NEW CASE THAT WON'T LET HIM

Two Cuban marielitos--followers of the voodoo-like santeria cult--are accused of a vicious massacre in a downtown jewelry store, and Cuban-born Charlie Morell is appointed by the court to investigate. Charlie discovers that strange alliances abound in L.A.'s Hispanic community as witchcraft, mysterious taboos, and brutal businessmen conspire to get in the way of the truth. And he also finds himself face to face with his own guilty past and the reasons why he abandoned his family and. a flourishing law practice in Florida to become a faceless L.A. detective.
what readers are saying
What do you think? Write your own comment on this book!
Write a Comment
book info
published
Sep-1991 (hardcover)
Apr-1993 (paperback)
---