Star Trek: Log Five by Alan Dean Foster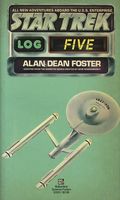 THE AMBERGRIS ELEMENT
Marooned on the strange water world of Argo, Kirk and Spock are in incredible danger... pursued by a hideous sea monster!

THE PIRATES OF ORION
Spock is desperately ill with a disease fatal to Vulcans ... only a miracle can save him!

JIHAD
The Skorr are on the warpath ... threatening to launch a holy war against the rest of the civilized galaxy!
what readers are saying
What do you think? Write your own comment on this book!
Write a Comment
book info
genres
Speculative Fiction
people / creatures
Pirates
---